Stretches For Middle Back Pain
Do you know stretches for middle back pain? We can't function throughout the day if we have middle back pain. We can't readily lean down to look for oncoming traffic or turn to check for approaching traffic. If you find yourself hurting in the center of the back regularly, it's time to start stretching.

Middle back pain receives less attention but is perhaps more difficult to cure than lower back pain. Middle back pain is a difficult illness to diagnose, and many people never find out what's causing it. The middle back is a complicated spine area: it protects the critical organs, but it's also prone to persistent pain. Here are some exercises and stretches for middle back pain. As usual, consult your doctor to confirm that these workouts are appropriate for your specific situation.
Best Stretches for Middle Back Pain
Middle back pain may be relieved quickly with over-the-counter medications, cold packs, and massage. But these solutions are just temporary. Adding stretches for middle back pain is you may help you. Avoid starting any new workout or stretching routine without contacting your doctor or chiropractor. Pay attention to your breathing while executing the stretches below. During the stretch, inhale and relax. Inhale longer, exhale softer. Remember, they are micromovements. Gradually include these stretches.
Yoga calls the heart-melting stance "puppy pose." Begin on your hands and knees, hips just above knees. As you move your hands forward to drop your forehead to the ground, keep your knees and hips in a single straight line. Keep your arms apart if this stance is too demanding on your shoulders.

If you can't quite reach the ground, a bolster or a couple of cushions might be placed under your chest. Take ten deep breaths here, then gently move your hands back to you to exit the stretch.
A passive backbend is a great stretch for a long day that takes no effort. Begin by rolling a cloth or a yoga bolster. Lay it horizontally over your shoulder blades. Lie across the rolled-up object for support. Deeply inhale and hold this stretch for five minutes. Flip the pillow or towel vertically up and down your back, or add another cushion for a deeper stretch.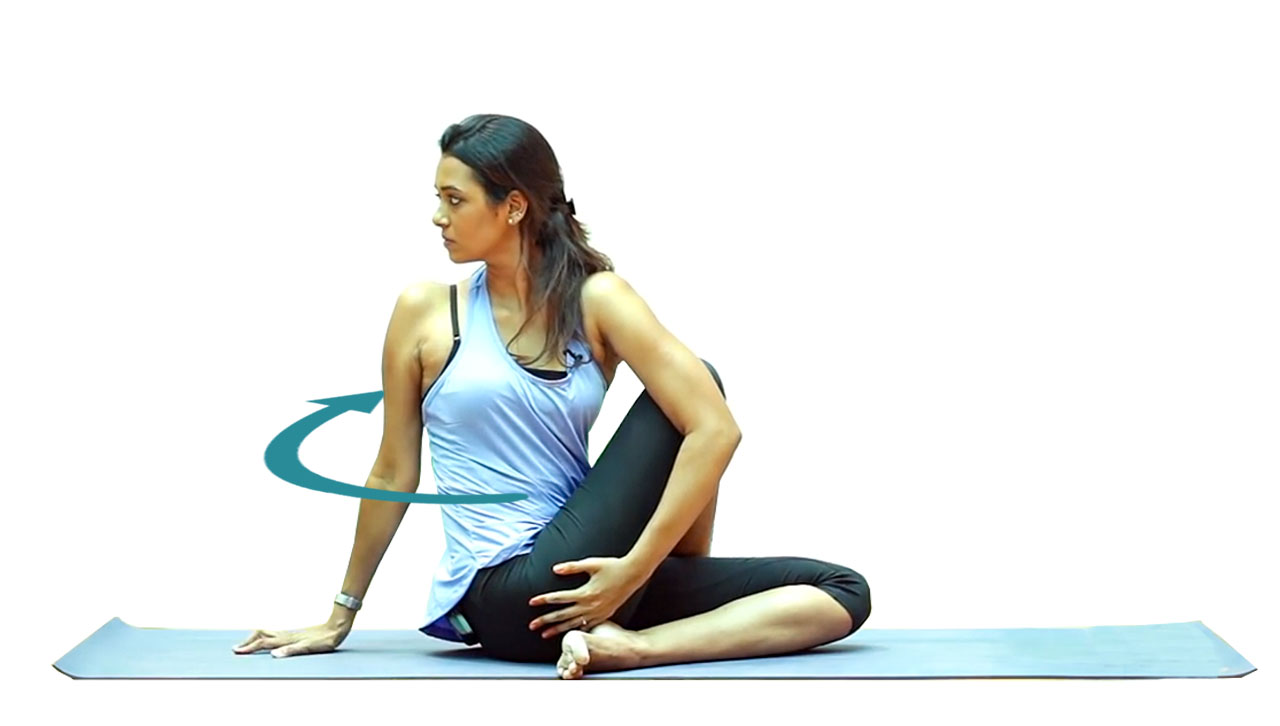 A seated twist is a basic stretch that you may perform in the workplace or sitting in front of the computer. Inhale deeply, twist to the right while pressing your navel to your spine. Place your right hand on the rear of the right armrest, and your left hand on the front of your chair has armrests. If not, rest your right arm on the chair's back while extending your left arm to the outside of your right leg. You may gaze over your right shoulder softly if it feels comfortable for your neck.

Otherwise, move your gaze ahead or to the side. Hold for three to five complete breaths, inhaling tall and exhaling with your navel pressed against your spine. On an inhale, return to the middle, then twist to the opposite side.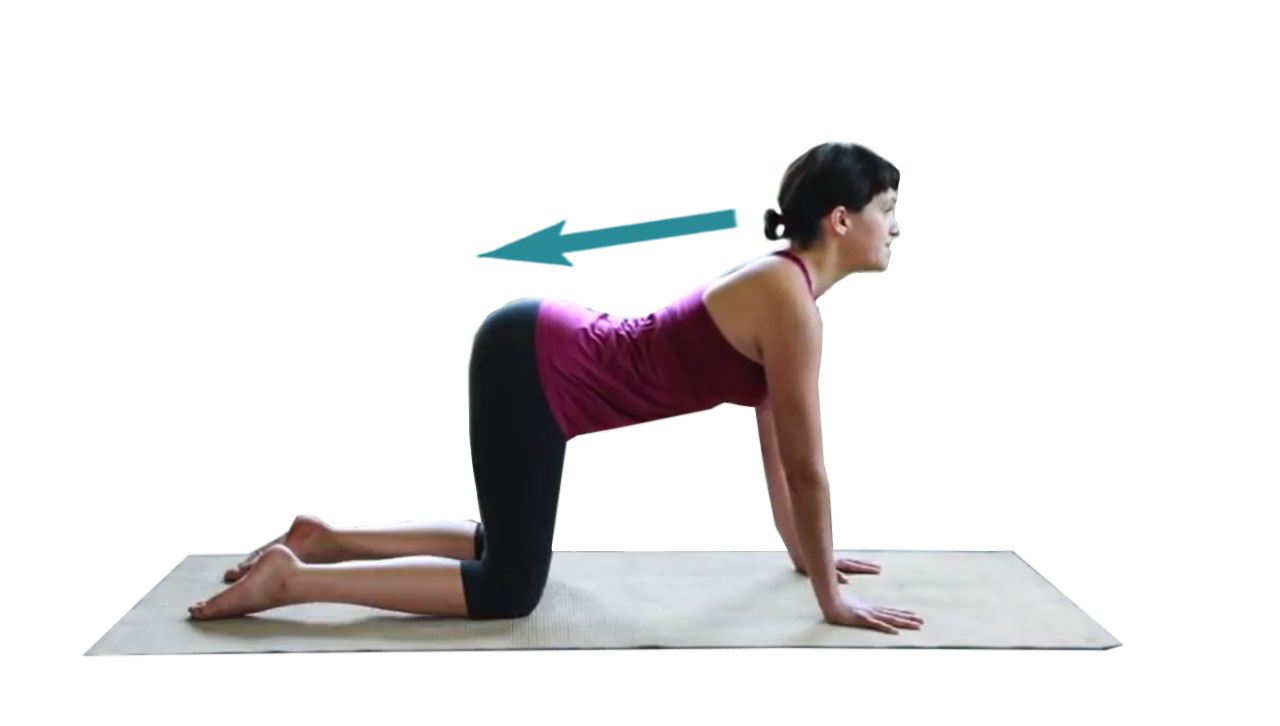 The cat-cow yoga stance may greatly alleviate back pain. Starting on all fours, place your shoulders over your wrists and your hips over your knees. Put yourself in a cat and cow pose. Inhale, arch your lower back and drag your shoulder blades onto your back, allowing your belly to reach for the earth. Lift your eyes to the heavens and let your heart radiate through your upper arms.

Tuck your pelvis under and arch your back like a cat as you exhale, allowing your shoulder blades to slide apart from each other as you push your hands into the ground and lower your head.
Begin on all fours, hips just above knees, shoulders over wrists. Swing your torso backward and forwards, lowering yourself to the ground with your right shoulder and side of your face resting on the ground and your right arm stretched to the left. Your left hand might stay still or reach forward. Take three to five deep breaths here, then relax onto your left hand.
Supported Hamstring Stretch
Stretching the hamstrings should be included in the middle back strengthening activities. A supported hamstring stretch is a good option. It's gentle on the back and merely necessitates using a chair. Place one foot on the seat of a solid chair and stand in front of it. Then, fold forward with your navel to your spine and a long, straight spine by hingeing at your hips.

Bend your knee if you have any soreness behind it. This stretch should be felt in the belly of your hamstring. Take three to five full, deep breaths, stretching and folding your spine on the inhale and exhale, respectively and change sides.
Shoulder flossing is a technique that gently massages the shoulder blades through their range of motion. It's the same shoulder motion as cat and cow position, only this time your lower body is steady and engaged, and your navel is pressed against your spine.

Inhale and push the floor away from you on all fours, feeling your shoulder blades slip apart from each other. Exhale and lower your chest to the point where your shoulder blades meet on your back.
What Causes Middle Back Pain?
Upper and middle back pain are less prevalent than lower or neck discomfort but significant. The thoracic back is the upper and middle region of the back. The T1–T12 vertebrae, part of the rib cage, and different muscles and ligaments keep your spine together.
Middle back pain might develop due to repeated strain on the spine. In other circumstances, bad posture might be the source of the problem. Your back muscles and ligaments work hard to keep you balanced when you recline. Overworking these muscles might result in aches and pains in the back center.
One of your disks may have herniated, pushing on the outer cartilage ring, pressing on a nerve. Herniated disks are also introduced as ruptured disks. And also, its pressure on the nerve may cause pain, tingling, or numbness in the middle back and the legs.
Older people are more prone to suffer from back pain than younger people. According to the specialist, those between 30 and 50 are most likely to have back pain. Especially, the natural aging process takes its toll on the body, resulting in bone weakening, muscle mass loss, and a decrease in the amount of fluid between spinal joints. A variety of factors may cause back pain.
Trauma, such as a fall, a vehicle accident, or a sports injury, may result in vertebrae fractures. Fractures are also more common among those with low bone density, such as those with osteoporosis. Fractures in the middle back may produce excruciating pain that worsens as you move.

If you're having problems with incontinence, tingling, or numbness, your fracture may be affecting your spinal cord. Bone fractures or breaks may be life-threatening injuries. They often need prompt medical attention. Wearing a brace, physical therapy, and potentially surgery are possible treatment choices.
How To Stretches For Middle Back Pain
Most back pain has one thing in common: it may be eased with easy stretches and exercises to increase muscular strength and decrease strain. Middle back stretches and strengthening exercises may provide significant relief and recovery for many chronic pain disorders. However, stretching this part of the body might be challenging. The skeletal system only allows certain mobility in one direction; bone cannot be stretched. However, there is no need for long, dramatic passages.
Back pain is a frequent complaint that may negatively affect overall health and well-being. Stretches for middle back pain regularly may assist in relaxing and strengthening muscles, which can help improve posture and lessen back pain.